We are very happy to help you arrange your wedding here at Holy Trinity Church, Langdale.
If you or a parent, either live or used to live in the valley or were baptized or (in the case of parents) were married here, you have a right to be married by Banns. It may also be possible if you attend services a certain number of times before the wedding. In addition, some couples wish to marry in a church or area which is specially meaningful to them, but with which they have no such "qualifying connection". These marriages can also take place but will need either a Common Licence or a Superintendent Registrar's Certificate.
The Church of England website has extensive information about marriage.
Further information about the legal aspects of marriage is available here.
Music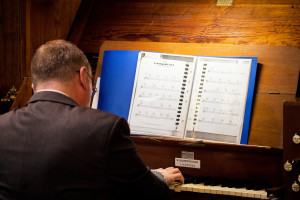 Organist' fees vary.  Our main organist is Paul Gregson ((015394) 36452) and his fee is currently £100.00.  We can provide contact details for other organists who charge £35 (though cannot offer such a large repertoire of music). At present there is no local choir available. There is also a piano in the church and a CD player which can be used for music of your choice, if required.
Bells
There is a strong local bell-ringing tradition and a band of six bell-ringers can usually be mustered to herald the bride for half an hour before the service begins and also as the party leaves the church for another 20 minutes. This can be arranged through Graham Stirrup, the Tower Captain ( gandks@btinternet.com ) (015394) 37216).  The cost is £120.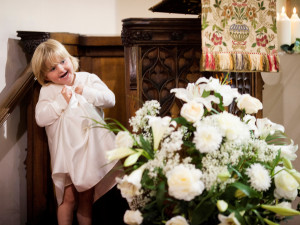 Flowers
The Flower Shop in Ambleside (015394 33121) is good. Alternatively you may wish to arrange them as a family, or engage another florist. Obviously the flowers are yours to take away, but if you are able to leave a bunch in the church they would be gratefully received.
Order of service
The marriage Vows and Registration and one Bible reading are essential, but apart from that: choice of hymns/songs, readings etc. is entirely up to the couple. Most people make up their own orders of service in consultation with the vicar, and either home-print it or have it done professionally.  A selection of previous orders of service are available if you would like some ideas.
Wedding Fees
We are required to charge a statutory fee for the wedding and the publication of Banns.  The fee is split equally between the local parish and the Carlisle Diocese. For a Blessing of Marriage, we ask for a donation equivalent to half of that of the marriage fees. For the upkeep of the church there is a retiring collection.
The current (2017) fees are:
Publication of banns: £28.00
Certificate of banns: £13.00 (if needed)
Marriage Service: £424.0
Marriage Certificate £4.00
Photography
Professionals may take videos or non-flash photos at any time in the service as long as they are discreet. The congregation is usually allowed to photograph the bride's entry as well as the bride and groom's departure, but are asked to otherwise refrain from photography during the service itself.  (The two photos at the top of this display were taken by Derwent Photography and the one of the flower girl was taken by Chris Freer.)
Confetti
Any biodegradable confetti or petals may be used.
Preparation
Couples are asked to attend a Marriage Preparation weekend at some point before their wedding. These are held twice a year in combination with St Mary's, Ambleside, and Holy Trinity, Brathay. A couple of trained relationship counsellors guide attendees through 4 sessions which look at various issues that tend to crop up during marriage.  The course is a condensed version of a well-known national course that has been found to strengthen many marriages. The next course is on Saturday 28th February 2015.
Rehearsal
This usually takes place on the evening before the wedding. It is a brief (c.35mins) run-through of the main parts of the service to check audibility, where people stand etc. It involves the bride and groom, bride's father, best man, bridesmaids if possible, and any readers (but any other family or friends are quite welcome).
Enquiries
Please direct inquiries to the Vicar, George Wrigley.